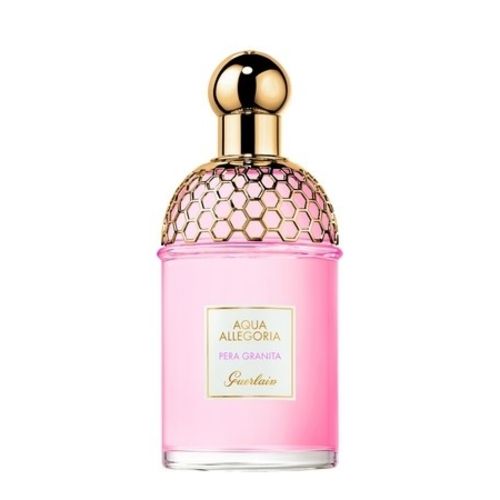 Guerlain – Aqua Allegoria Pera Granita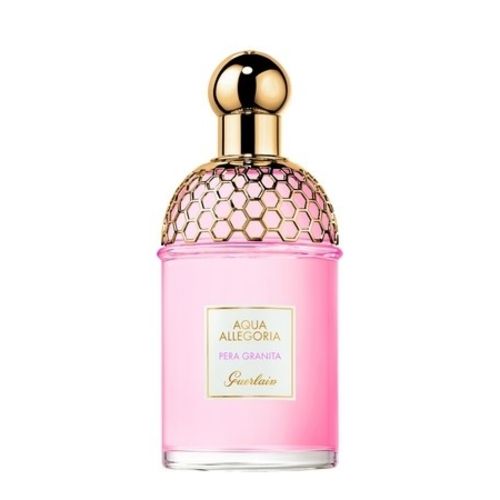 Aqua Allegoria Pera Granita, the scent novelty from Guerlain
In spring 2015, the Teazzurra perfume joined Guerlain's very famous collection of Aqua Allegoria essences. This juice was surprisingly fresh and tinged with a very pretty bluish color. Its marine atmosphere then contained notes of tea and was very well received by the public. In addition, each perfume in this emblematic collection of the Guerlain house is always eagerly awaited. Also, the brand has just unveiled the composition of the juice which will mark the year 2016. Aqua Allegoria Pera Granita will be a concentrate of fruity freshness highlighting bergamot and pear.
Guerlain's Aqua Allegoria collection
Aqua Allegoria is a range of perfumes whose goal is to make us travel around the world. Indeed, it offers fairly simple compositions highlighting one or two major ingredients. These then symbolize a country and make us travel from Italy to Venezuela via Reunion Island or China. In order to create these exceptional essences, Guerlain perfumers do not hesitate to travel the globe in search of original ingredients. In this case the new fragrance Aqua Allegoria Pera Granita is signed by the nose Thierry Wasser. The Aqua Allegoria collection is a beautiful tribute to nature. It highlights the most beautiful raw materials that the earth offers us. In addition, these materials are further enhanced by a beauty treatment via an extraordinary bottle. This one is inspired by the famous bee bottle from 1853. It is cut from a very thin transparent glass and is surmounted by a chiseled golden dome playing with light. Aqua Allegoria Pera Granita unveils this time a tender rosé juice on which is simply affixed a white label where its name is written in gold letters. The rendering is beautiful and immediately plunges us into a particularly poetic world.
La fraîcheur juteuse d'Aqua Allegoria Pera Granita
As the color of its juice suggests, Aqua Allegoria Pera Granita is a sparkling fragrance that makes us want to see life in pink. Thierry Wasser started it off with particularly invigorating top notes. These are especially full of grapefruit and lemon. Nevertheless, these two citrus fruits are dominated by the citrus presence of bergamot. Then, the whole evolves towards a particularly luminous heart full of orange blossom. This is then coupled with osmanthus, a rare shrub native to Asia, whose small flowers exude a suave floral scent with fruity accents. Finally, it is here that the pear, a major ingredient in this composition, makes its appearance. It then brings a very fruity, juicy and greedy aspect to the whole. Then, Aqua Allegoria Pera Granita evolves towards a very light base based on the alliance of white musks and cedar. In addition, the moss, an ingredient derived from the lichen that grows on the branches and trunks of the oak, further reinforces the richness of this fragrance. In short, the new Aqua Allegoria Pera Granita adopts a fairly simple but particularly pleasant composition.
Guerlain is a house whose fame extends across the entire planet. We no longer count the quantity of scented successes that emanate from this brand. However, a collection of essences is particularly talked about each spring. In this case, it is the range of fresh water called Aqua Allegoria. These are true odes to nature and highlight very noble and rigorously selected raw materials. Also, even if little information has filtered out for the moment, we already know that the Guerlain essence scheduled for spring 2016 will be called Aqua Allegoria Pera Granita .
The Aqua Allegoria fragrance collection
Since its creation, the Guerlain house has continued to increase the number of fragranceshaving feminine beauty as its main source of inspiration. However, in 1999, Jean-Paul Guerlain decided to embark on a new adventure. He says he wants to create a collection of essences paying homage to the raw materials that nature offers us. He decides to call this new range of perfumes Aqua Allegoria. His entire team is enthusiastic and creative ideas do not take long to flourish. Also, the very first essence of the collection will be called Herba Fresca. The latter then pays homage to the smell of the Sardinian maquis. Since that day, it has been a tradition, each new spring, the Guerlain house releases a new Aqua Allegoria essence. The most recent, in 2015, was called Aqua Allegoria Teazzurra. The latter started with a good dose of citrus fruit embellished with white musks. In his heart, we found a jasmine tea full of grace and balance. Then it all ended with a hint of vanilla. In short, the recipe was quite simple but we must admit that it worked wonderfully. This is undoubtedly the key to the success of this collection signed Guerlain: Focus on quality and not quantity. Also, the new Aqua Allegoria Pera Granita should not escape the rule and already promises to seduce your fine gourmet sense of the perfume sector.
Guerlain's new Aqua Allegoria Pera Granita
Although little information has yet filtered out about the new Aqua Allegoria Pera Granita, we already have its name, which gives us a glimpse of some of its scent. Indeed, as we explained to you just before, these essences are often composed of few ingredients. As a result, the name of these perfumes already says a lot about their capacity. In this case, "Pera Granita" means "pear sorbet" in Spanish. We just have to close our eyes for a moment to catch a glimpse of the juicy, sun-kissed scent of the new Aqua Allegoria Pera Granita. Its scent already promises to be highly prestigious and this fruit is mostly intended exclusively for fine perfumery. Of course, on the bottle side, we will find the famous emblematic case of the Aqua Allegoria collection. All in transparency, it will probably give a glimpse of a tender green juice reminiscent of pear. In addition, it will be adorned with its famous cabochon forming a honeycomb dome, radiating its golden color. So, a little more patience, the beautiful days will soon be back and will appear at the same time as the new Aqua Allegoria Pera Granita.