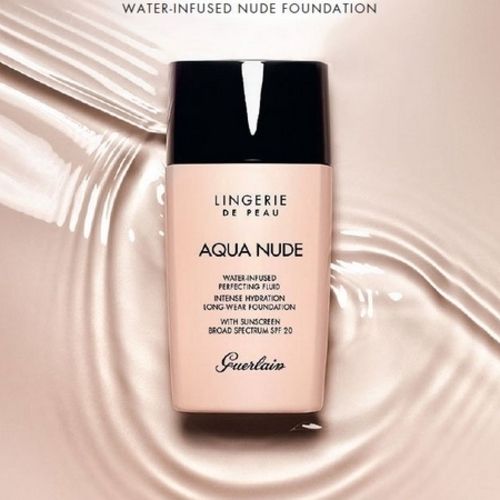 Guerlain Aqua Nude Skin Lingerie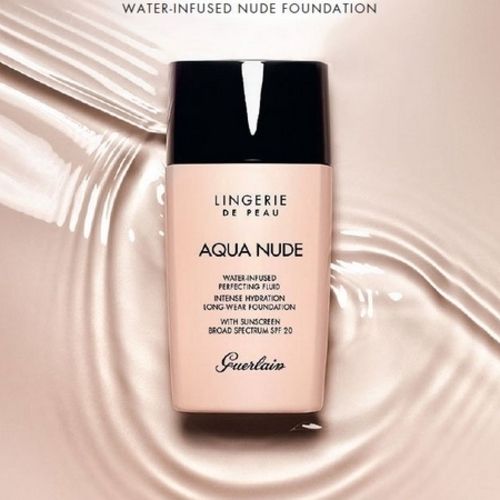 Aqua Nude Lingerie de Peau, the new foundation from Guerlain
The Guerlain brand is today one of the most famous perfume houses on the world market. However, its know-how is also available in the cosmetics department. Thus, Guerlain continues to gradually expand its range of beauty and make-up products. These two worlds come together and this is how many articles are continually appearing to sublimate your beauty in the long term. This is precisely how Guerlain's new Aqua Nude Lingerie de Peau foundation was conceived . This combines many advantages and already promises to embellish your splendid porcelain complexion day after day.
The fluid texture of Aqua Nude foundation
Guerlain's Lingerie de Peau Aqua Nude foundation has a very light fluid texture. Perfectly impregnated with water, it offers a semi-matt finish for a very natural effect. At the same time covering but imperceptible, this foundation avoids creating a demarcation at the level of the neck and can be applied just as much with the finger, as with the sponge or the brush. Of course, it is available in different shades to allow you to obtain a rendering as close as possible to your natural skin tone. Ideal for the summer season, Aqua Nude lets the skin breathe and thus offers your face a feeling of comfort all day long.
Sun protection offered by Guerlain
At the same time, note that Guerlain's Lingerie de Peau Aqua Nude foundation also contains a sun protection factor of SPF20, which will protect your skin durably against UV rays. Indeed, contrary to what one would tend to think, it is essential to protect your skin from the sun's rays throughout the year. UV rays are the main agents responsible for premature aging of the skin. In other words, Guerlain's Aqua Nude doesn't just put makeup on you. It also preserves your beauty over the long term.
Aqua Nude Lingerie de Peau, a nourishing and moisturizing product
In addition to its sun protection, the Lingerie de Peau Aqua Nude foundation also provides intense hydration to your skin. It is the result of extensive Guerlain research and infuses deep hydration into the heart of your cells. Thanks to this product, your skin will be better nourished and better hydrated, which will only increase its suppleness and radiance.
The contribution of a Guerlain perfume in addition
Finally, because Guerlain is above all a renowned perfumer, know that none of its products come out without being matched with a sumptuous fragrance. The Aqua Nude Lingerie de Peau foundation has therefore not escaped the rule. This has a peach scent coated with vegetal notes, both fresh and sparkling. Its heart delivers the feminine scent of a rose enriched with jasmine and raspberry. The whole is based on a balsamic base of benzoin and white musk; enough to envelop you in a delicate breath that blends perfectly with your usual perfume.