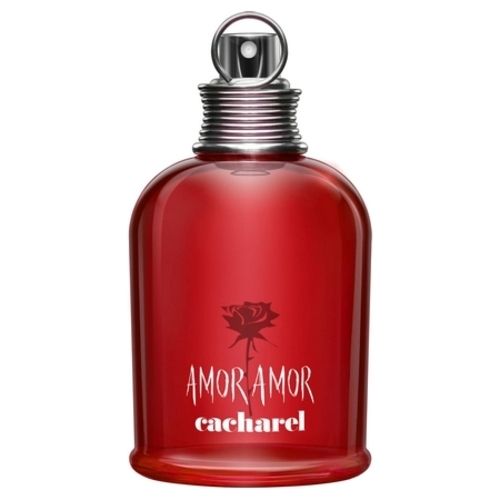 The different Amor Amor fragrances by Cacharel
Romantic brand par excellence, Cacharel is known in the world of perfumery thanks to its first perfume, Anaïs Anaïs, a flowery fragrance of a magnificent delicacy which has been a dazzling success. All the brand's perfumes are made with love and speak only of love. It is with this in mind that the house Cacharel will naturally offer a perfume called Amor Amor, the very essence of love, but also of passion. Beautiful promises accentuated by great success have enabled Cacharel to compose many variations, each as passionate as the next.
Amor Amor, a fragrance filled with emotion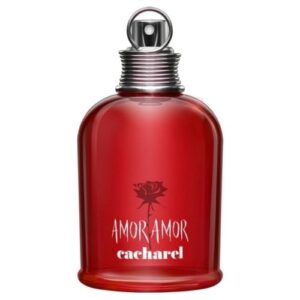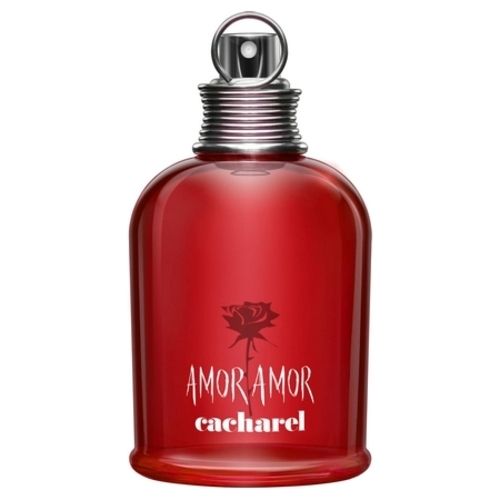 Between love, romance and passion, Amor Amor
It was in 2003 that the Amor Amor saga began with a flamboyant red bottle perfume. Like the bottle, the Amor Amor woman is captivating and lives only on passion.
In 2016 Cacharel will present us a variation with Amor Amor and will plunge us into a whirlwind of emotions from which it is difficult to escape unscathed. Of course, the Amor Amor perfume tells a beautiful love story, but the fragrance also invites us to live in the present moment.
The composition is fruity, from the start thanks to the presence of pink grapefruit, blood orange and blackcurrant. Then, the heart of Amor Amor evolves towards delicate floral and feminine tones, because it combines jasmine and apricot. Finally, the base is filled with sensuality and combines white musks and vanilla, for a most addicting fragrance.
Amor Amor Mon Parfum du Soir, the thrill of a moonlight kiss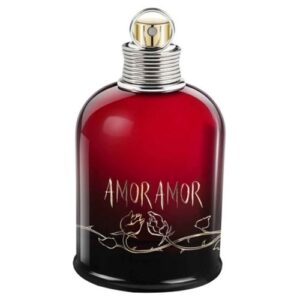 Amor Amor Mon Parfum du Soir, a floral-fruity fragrance
Released in 2015, Mon Parfum du Soir takes us once again in a whirlwind of emotions and passion. Daring, Amor Amor Mon Parfum du Soir tells us the story of a moonlight kiss.
Intense, the fragrance is just as intense as its bottle, which here takes up the flamboyant red of its elder, with a delicious gradient that symbolizes that the tension is rising. Just as fiery as its predecessor, the fragrance Amor Amor Mon Parfum du Soir is nevertheless more fruity.
Indeed, the composition begins with the dynamic and tangy notes of blackcurrant and mandarin, associated with the freshness of bergamot. Then, the heart is filled with fruity-floral notes and combines blackberry, rose and freesia, an ultra-feminine flower. Gourmet and sensual, the base is made up of vanilla, white musks, patchouli and icing sugar, for total addiction.
Amor Amor Electric Kiss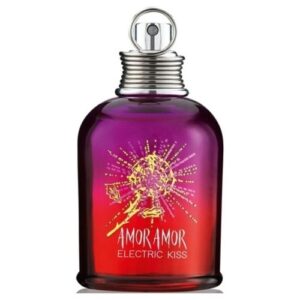 Amor Amor Electric Kiss, Amor Amor's contrasts gain strength
With the scented composition of Amor Amor, the perfumers Dominique Ropion and Laurent Bruyère together offered a new delicacy to be tasted for young girls in love with Cacharel perfumes.
While Anais Anais and Loulou remain unforgettable, Maison Cacharel wanted to offer a new page of love in this new millennium, and it is thanks to the striking warm and cold contrasts of Amor Amor that the pretty romantic label will succeed. Indeed, Amor Amor is certainly a gourmet fragrance thanks to its fruity and sensual notes, but also a striking scent of spicy freshness thanks to a departure of mandarin, grapefruit and orange.
Subsequently, the perfumers will create new variations that will sometimes play on the sensuality of Amor Amor by increasing their power as for Amor Amor Mon Parfum du Soir, or by exalting its freshness with sweet exotic notes as for the 2018 opus. Agua de Amor Amor or the 2017 opus Amor Amor L'Eau Flamingo.
Cependant, si les deux derniers flacons estivaux d'Amor Amor présentaient une fragrenza tropicale, Amor Amor Electric Kiss préfèrera jouer du contraste pour nous surprendre un peu plus et créer l'effet électrique qui rend fou amoureux…
Entre notes piquantes et sensualités profondes Amor Amor Electric Kiss a créé la surprise
Les parfumeurs créateurs d'Amor Amor Electric Kiss ont cherché à renouveler la fraîcheur intense et originelle de la gamme d'Amor Amor en reformant un départ très frais en contraste avec des profondeurs à la sensualité imparable.
Ainsi, si Amor Amor débutait en un cocktail vitaminé d'agrumes acidulés, Amor Amor Electric Kiss nous présentera une version très moderne de la fraîcheur grâce à une note de rhubarbe cinglante, verte et sucrée accompagnée de baies roses pétillantes et piquantes. Au cœur, le jasmin perdure de son opulence ensoleillée comme dans l'essence originelle, cependant la rose vient l'accompagner afin de diffuser une féminité intemporelle et élégante. Enfin Amor Amor Electric Kiss propose comme son aîné de 2003 des profondeurs boisées, cependant la vanille, les muscs blancs et la fève tonka sont remplacés pour cet opus de 2019 par des notes plus orientales de patchouli et de bois ambrés.
Amor Amor Electric Kiss a donc conservé sans aucun doute la colonne vertébrale très contrastée du parfum originel de 2003. Cependant, les parfumeurs créateurs de cet opus n'ont pas hésité à modifier tout ou partie des ingrédients olfactifs pour apporter un vent de modernité à ce parfum très estival.
Amor Amor in a Flash, le véritable coup de foudre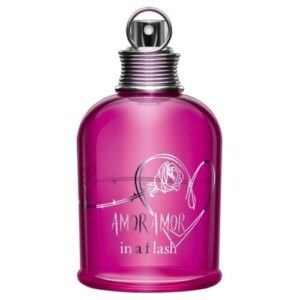 Amor Amor in a Flash, telle une pomme d'amour à croquer
Bien entendu, Amor Amor in a Flash est tout aussi passionnée que ses ainées.
Néanmoins, la déclinaison se veut, cette fois, plus gourmande. Le coup de foudre est ici fulgurant, et la passion, qui envahit la femme Cacharel, instantanée.
Sorti en 2013, Amor Amor in a Flash est également un concentré de gourmandise et d'audace, grâce à une composition qui débute par les notes fruitées et sucrées de la pomme et de l'abricot. Puis, les notes de cœur sont ultras féminines avec la présence de jasmin, puis rehaussée par le côté épicé et gourmand de la cannelle. Enfin, le fond est aussi sensuel que gourmand et conjugue harmonieusement le santal et le caramel. Si le flacon a gardé la même forme que ses prédécesseurs, il se pare ici d'une couleur rose girly avec un cœur et une rose imprimée en gris.
Amor Amor Forbidden Kiss, les jeux interdits selon Cacharel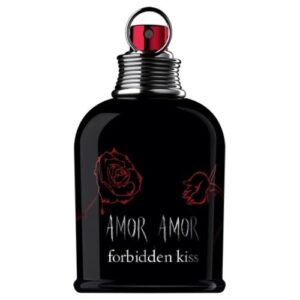 Fougue et passion se retrouvent au cœur d'Amor Amor Forbidden Kiss
L'amour éternel est toujours au cœur de la revisite Amor Amor Forbidden Kiss, sorti en 2011. En allemand, « Forbidden Kiss » signifie « baisers interdits », ce qui donne le ton de cette déclinaison.
Toujours aussi amoureuse, la fragrance Amor Amor Forbidden Kiss pousse la passion à son apogée. Ici, la femme Cacharel flirte délicieusement avec les interdits. Si le flacon a gardé sa forme originelle, il se teinte pour l'occasion d'un noir ultra mystérieux.
Sa composition s'envole sur la fraicheur acidulée de la mandarine et du pamplemousse, rehaussée par les baies de rose. Puis, les notes de cœur se chargent de frangipanier et de fleurs de pivoine conférant à l'ensemble une grande sensualité. Enfin, le fond se veut totalement transgressif grâce à la présence de vanille et de café.
Chaque parfum Cacharel véhicule des émotions particulières. Amor Amor est la fragrance amoureuse par excellence. Entre passion, amour et jeux interdits, les différentes déclinaisons d'Amor Amor symbolisent la vie et la passion. Pour chaque émotion d'amour, Cacharel a imaginé un Perfume, mais tous ne font qu'exprimer l'amour, thème cher au cœur de la brand Cacharel.