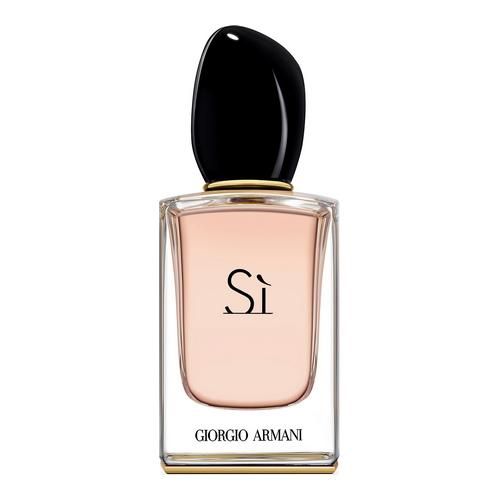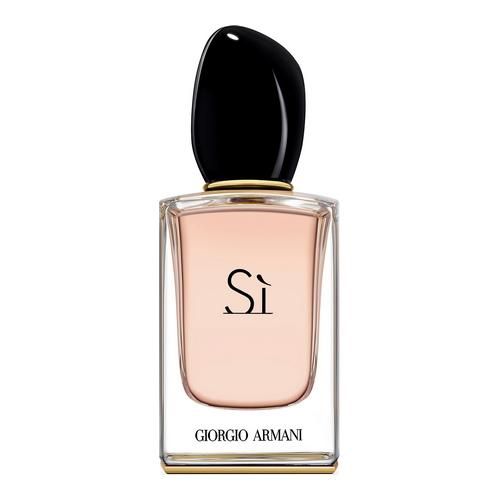 "Si" by Armani, like a desire to say "Yes" to life
As if to pay tribute to femininity, the house of Armani decided to create a fragrance simply named "Si", in 2013. This fragrance was designed in the image of an Italian woman, endowed with a bewitching charm, turning many faces in its path and not lacking in impertinence. A real trip to the Mediterranean region, this essence alone brings together all the timeless class of the Armani house associated with the natural charm of femininity.
The absolute luminosity of the "Si" woman
"Si" by Armani is a luminous, charismatic and sophisticated fragrance. As Giorgio Armani himself explained during its creation: "If is my homage to modern femininity, he said, an irresistible blend of grace, strength and a spirit of independence". It symbolizes all the quintessence of Italian style and chic, whether through its powerful and elegant fragrance or its design. This one has a couture allure and emotionally mixes a delicate flavor with a mysterious breath. "If" thus leaves an indelible mark wherever it goes. It brings together strength and gentleness, elegance and sensuality, a mad desire for freedom and an unparalleled thirst for life. This essence is thought out with lightness while having a certain depth. She is like a caring woman but knowing how to impose herself and be respected. If Italian women were to be perfume, it's a safe bet that it would be the one. "Si" is the symbol of a strong and serene femininity. It is the scent of all women who have the courage to say "If" to life and exclaim with enthusiasm!
A bottle faithful to the Armani style
"Si" is then delivered to us in a bottle in the style typical of the house of Armani. This is a kind of very architectural and refined work of art. Like Armani clothing, this one seems to favor comfort and elegance over any other superfluous element. Thus, "Si" seems endowed with a natural and authentic class. It rests on a glass seat which we cannot tell if it is really square or rather round. Its tapered contours play with light and reveal the splendor of a flesh-colored juice through a multitude of reflections. The whole is then surmounted by a completely opaque cap coming to contrast with the rest of its design. This one is asymmetrical and contrasts with the rigor of the rest of this bottle.
Discover the new feminine perfume Si by Giorgio Armani .
"Si", a fragrance embodying the prestige and modernity of Armani
Eau de Parfum Si from Armaniis known for its potency and enduring tenacity. The high quality of its ingredients undeniably ranks it as a highly prized essence in the field of luxury perfumery. If is built around patchouli and mingles with sweeter and fruity notes. It will therefore be able to seduce the hearts of the most greedy and increase the sensuality of women in general. With this nectar, Armani has created an essence that lives up to its reputation and prestige. What's more, everything is further supported by the collaboration of Cate Blanchett as the face of the brand. All the elements are then united and match to enhance the timeless and undisputed elegance of Armani. This fragrance perfectly embodies today's woman. Emotions are revisited with modernity and its charm is simply irresistible.
Si's pub with Cate Blanchett
The influences of Christine Nagel, creator of Si
Le parfum Si a été créé par Christine Nagel, parfumeur chez Mane fils, en totale concordance avec les gouts de Monsieur Armani. Cette créatrice à la gaieté tempérée est née d'une mère italienne et d'un père suisse. Aussi, l'influence de ses origines se retrouve très souvent dans ses parfums. Cette dernière aime les contrastes entre le chaud et le froid. Par exemple, elle se plait à associer les saveurs de la chaude noix de muscade à du gingembre, plus froid. Comme elle le dit elle-même : « De ces pays d'origine, les souvenirs olfactifs de mon enfance s'y retrouvent. La terre et l'asphalte mouillées de la Suisse et l'odeur du Boro Talco, le célèbre talc italien aux odeurs de vanille très ambrée et chaude … ». Passionnée de lecture depuis son enfance, cette grande rêveuse se plait à se perdre dans des romances fictives. Toutefois, ça n'est qu'à l'âge adulte que naitra ce nouvel amour pour le monde olfactif. Diplômée de chimie organique à la faculté de Genève, son travail consiste à analyser les produits naturels. Puis, une opportunité s'ouvrira à elle pour accéder un jour à la création de parfums.
Avec Si, c'est tout son côté italien qui va donc devoir s'exprimer. Le nom de ce parfum veut, en effet, dire « Oui » en italien. Il convient donc de créer une essence qui donne envie de dire oui aux opportunités offertes par la vie, un peu comme lorsque Christine Nagel a saisi sa chance de travailler dans cet univers. Ainsi, cette fragrance semblait faite à son image et c'est sans doute là que réside toute la subtilité de cette essence. Si est le résultat d'un travail passionné et parfaitement maitrisé. Il s'adresse aux femmes libres et affirmées. Il est un hommage à la féminité moderne et mélange à la perfection la force, la grâce et l'esprit d'indépendance.
Si, une composition aux ingrédients nobles
L'Eau de Parfum Si fait partie des chyprés fruités. Toutefois, il est résolument moderne et sa créatrice a veillé à en réinterpréter les saveurs. Ses notes de têtes sont d'emblée très luxueuses. En effet, on y retrouve le bourgeon de cassis, très onéreux et essentiellement utilisé en parfumerie de luxe. Son odeur évoque le conifère et donne alors un aspect très frais. Dans cette Eau de Perfume, celui-ci se mêle au freesia dont l'essence florale est très lumineuse. Cette dernière évoque le jasmin ou la fleur d'oranger, avec des accents suaves presque fruités. Le cœur de Si est, en revanche, très affirmé. Il semble battre la chamade comme le cœur d'une femme pourrait s'embraser au gré de ses émotions. On y reconnait immédiatement le patchouli à l'aspect boisé ainsi que la rose, si chère à la parfumerie féminine et tellement sensuelle. Le fond, quant à lui, est encore dans cette continuité mais se rehausse d'une part de gourmandise. La vanille vient arrondir le sillage de la fragrance et s'associe à des effluves de bois blond et d'orcanox aux notes d'ambre gris. Cette création est très élégante et particulièrement féminine. C'est un peu comme si Armani avait pris la délicatesse, la vigueur et la séduction des femmes pour les regrouper dans une essence des plus glamours. L'Eau de Parfum Armani est totalement irrésistible et incarne à la perfection la classe mondialement reconnue de cette grande maison de luxe.
Cate Blanchett prête son image à Armani
Aussi, afin de véhiculer cette image de femme moderne à l'esprit libre et incarnant le glamour, Armani s'est offert les talents d'une égérie très prestigieuse. Cate Blanchett est donc le nouveau visage d'Armani. Elle est l'une des actrices hollywoodiennes les plus élégantes et incarne à merveille l'esprit de la maison Armani. Dans cette publicité, l'actrice pose sur un fond blanc, les bras croisés, les cheveux au vent, en fixant l'objectif. La campagne est très classique tout en étant très soignée. Toutefois, l'actrice s'est dite très flattée de réaliser la promotion de ce parfum d'autant plus que c'est une brand qui lui tient à cœur et pour laquelle elle a porté de nombreuses créations. Bien évidemment, c'était sans compter sur le formidable cachet de 10 millions de dollars qui lui a été offert pour réaliser cette campagne marketing, faisant ainsi d'elle l'une des égéries les mieux payées au monde. Le film a été réalisé par Anne Fontaine et vous y reconnaitrez la musique « Any Other World » signé de l'artiste Mika. Dans ce film d'une minute, Cate Blanchett y interprète toutes les émotions et fait étalage de sa large palette d'actrice. Les portraits de la belle s'enchainent et les sentiments se succèdent et montent en intensité. Lorsqu'elle évoque cette collaboration, Cate Blanchett déclare : « Je me reconnais dans l'intemporalité de l'univers Armani, à la fois moderne et naturel, mais aussi classique et éminemment chic. J'ai le sentiment d'avoir toujours aspiré à la grâce et à la simplicité qu'incarnent Mr Armani et ses créations ». Le charme opère alors instantanément et nous donne envie de dire « Si » à la vie et surtout « Si » à cette magnifique fragrance signée Armani.
La Maison Giorgio Armani lance une nouvelle fragrance : SI, pour la rentrée 2013.
C'est officiel : l'actrice australienne de 43 ans sera l'égérie du nouveau parfum "Si" de Giorgio Armani qui sortira en septembre 2013. Une information confirmée par le groupe L'Oréal Luxe, qui vient de présenter la fragrance au siège du couturier, à Milan, Via Borgonuovo 11.
Giorgio Armani – Si
L'Oréal Luxe Vient de présenter ce nouveau Perfume, qui sortira en septembre Prochain. C'est au siège du couturier que Giorgio Armani a déclaré que le parfum SI : "est mon hommage à la féminité moderne – une combinaison irrésistible de grâce, de force et d'indépendance d'esprit ".
L'actrice australienne Cate Blanchett, ambassadrice de la fragrance, était également présente. L'actrice, connue pour son élégance naturelle et sophistiquée, a rappelé sa longue relation avec le couturier et son admiration pour son travail. Elle a également exprimé son enthousiasme pour le projet «SI», consacré à une femme qui est forte et féminine.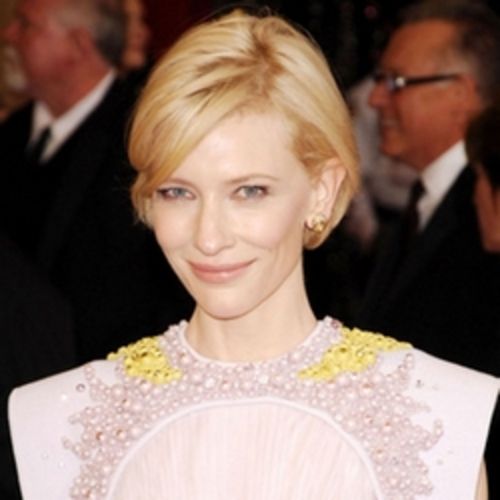 Giorgio Armani – Cate Blanchett
La quadragénaire, qui sera à l'affiche du film Blue Jasmine en septembre prochain, apparaîtra ainsi dans la prochaine campagne de la maison italienne.
"Cette nouvelle essence est mon hommage à la féminité moderne – une combinaison irrésistible de grâce, de force et d'indépendance d'esprit", a déclaré le styliste italien Giorgio Armani.
Parfums Femme
Famille Olfactive : Hespéridé – Boisé
Notes de Tête : Bergamote Sicilienne, Mandarine, Cassis.
Notes de Cœur : Rose de Mai, Néroli, Jasmin.
Notes de fond : Patchouli, Ambre, Orcanox ™, Vanille.